Asbestos is a term for a group of minerals made of microscopic fibres. Before its dangers were known, asbestos was often used in buildings for insulation, flooring and roofing and sprayed on ceilings and walls. It is now banned in the UK. Buildings constructed before the year 2000 may still have asbestos in them. The Health and Safety Executive website has lots more information about asbestos.
Asbestos was extensively used as a building material in the UK. It was used for a variety of purposes and was ideal for fireproofing and insulation. Any building built before 2000 (houses, factories, offices, schools, hospitals etc) can contain asbestos. Asbestos materials in good condition are safe unless asbestos fibres become airborne, which happens when materials are damaged.
When these fibres are inhaled they can cause serious diseases which are responsible for around 4500 deaths a year. There are four main diseases caused by asbestos: mesothelioma (which is always fatal), lung cancer (almost always fatal), asbestosis (not always fatal, but it can be very debilitating) and diffuse pleural thickening (not fatal).
Asbestos fibres are present in the environment in Great Britain so people are exposed to very low levels of fibres. However, a key factor in the risk of developing an asbestos-related disease is the total number of fibres breathed in. Working on or near damaged asbestos-containing materials or breathing in high levels of asbestos fibres, which may be many hundreds of times that of environmental levels can increase your chances of getting an asbestos-related disease.
Asbestos related diseases won't affect immediately but later on in life, so there is a need for you to protect yourself now to prevent you contracting an asbestos-related disease in the future. It is also important to remember that people who smoke and are also exposed to asbestos fibres are at a much greater risk of developing lung cancer.
You are mostly at risk when:
-You are working on an unfamiliar site
-The building you are working on was built before the year 2000
-Asbestos-containing materials were not identified before the job was started
-Asbestos-containing materials were identified but this information was not passed on by the people in charge to the people doing the work
-You don't know how to recognise and work safely with asbestos
-You know how to work safely with asbestos but you choose to put yourself at risk by not following proper precautions, perhaps to save time or because no one else is following proper procedures
Remember, as long as the asbestos is not damaged or located somewhere where it can be easily damaged it won't be a risk to you.
You can't see or smell asbestos fibres in the air.
The effects of being exposed to asbestos take many years to show up – avoid breathing it in now.
Smoking increases the risk many times.
Asbestos is only a danger when fibres are made airborne and breathed in.
Where Can Asbestos be Found?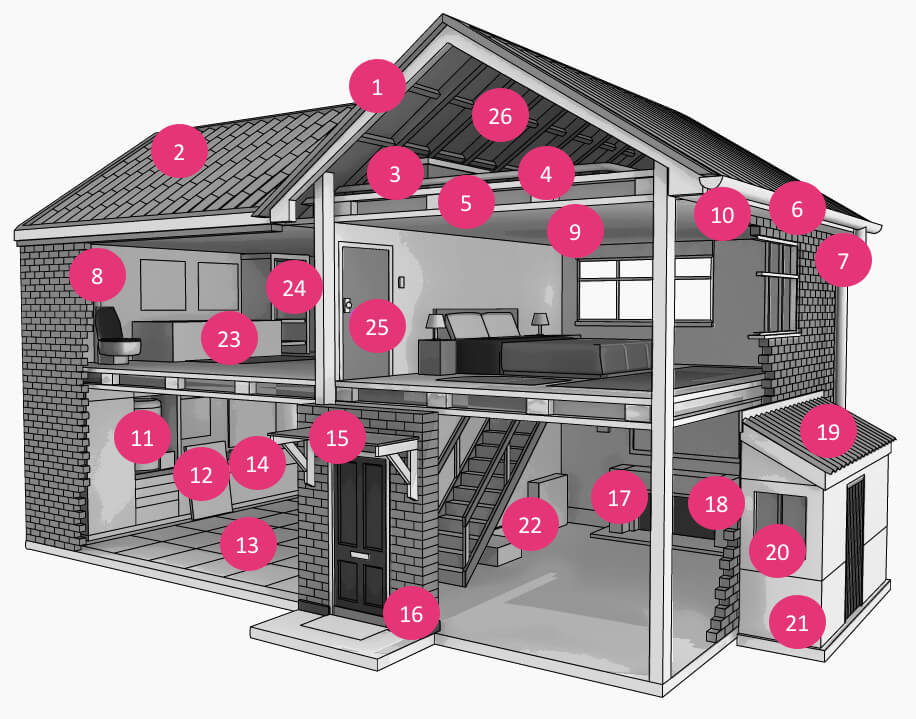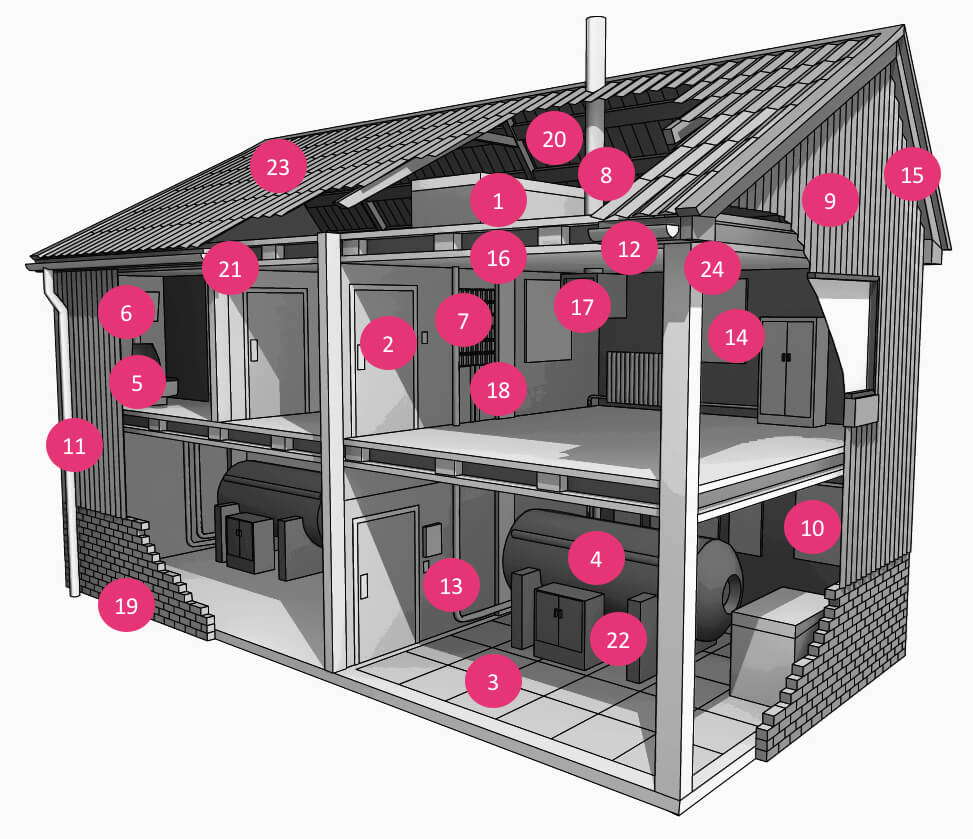 Fascia Boards
Cement Tiles
Cement Water Tank
Cement Pipe & Pipe Lagging
Loose Fill Asbestos
Cement Guttering
Cement Down Pipe
Toilet Cistern & Toilet Seat
Artex/Textured Coating
Soffit Boards
Boiler (Rope, Flue Pipe)
AIB
Vinyl floor tiles
Sink Pad
Cement Board
Damp Proof Course
Fire Place Panel
Flue Pipe
Asbestos Cement Roof
Window Rope Seal
Cement Sheet
Understair AIB/Cement Boards
Bath Panel
AIB Boxing
AIB Door
Undersarking
This list is not exhaustive and for illustration purposes only
AIB = Asbestos Insulating Board
Asbestos cement water tank
AIB to door
Floor tiles
Pipe lagging/bolier
Toilet seat
Toilet cistern
AIB behind fuse box
Cement flue pipe
Asbestos cement panels
AIB interior window panel
Cement downpipe
Artex/textured coating ceiling
Cable wrap
AIB panel
Asbestos cement under cloak
Loose fill insulation
Heater
AIB boxing
Damp proof course
Roofing felt
Soffits – AIB or asbestos cement
Fuse guards
Asbestos profiled sheeting
Sprayed coating to beams
This list is not exhaustive and for illustration purposes only
AIB = Asbestos Insulating Board
FAQs
We've been asked may questions but here's a few…
Accreditations & Memberships